ABOUT THE SPOT
RELEVANT ACTIVITIES & OFFERS
Rafting in Tana River, Sagana, Central Province Kenya
Distance :
8-16km / 4-9mi
Sagana is a small town, situated on the edge of a small plain at the southern foot of Mt. Kenya. Located almost at 100 km/62 mi from Nairobi City, it is home to Tana River, the longest in Kenya with a 1014 km/630 mi length.
The river in its own unique way is a beautiful scenery with varied wild life and wonderful bird life offering an unforgettable experience. Tana river has grade 3-5 rapids making your whitewater rafting an experience of a life time.
Some have confessed to the adrenaline rush lasting even days after!! Whitewater rafting here is normally done on different degrees of rough waters. The trip would normally take between four and five hours depending on the water levels.
The rafting distance ranges between 8-16 km / 4-9 mi, offering both adrenaline thrills and scenic bird viewing. Best attire to wear is what you wouldn't mind getting wet. For the people who get sunburned easily, it is advisable to wear long sleeved shirts. Make sure your shoes are tightly fit, otherwise you will leave them in the river!!!
Relevant activites based in
Kenya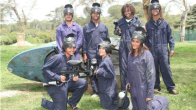 Paintball session, Nairobi
Tuesday to Saturday the charge  is 13$ for 100 balls per head. On Sundays we give a discount whereby the charge is 10$ for 150 balls per person, which is inclusive of the protective gears and all the equipment used in the game.
We also have lunchbox packages that go for 20$ and salad packages for 15$ inclusive of the game. Each game session goes for 1 hour and  30 minutes.
We are open  from 9.30 am to 4.30 pm.
+ More
Sundays 10$ for 150 balls per person