Coast to Coast Finish, Christchurch
ABOUT THE SPOT
RELEVANT ACTIVITIES & OFFERS
Bicycling / Cycling in Coast to Coast Finish, Christchurch, Canterbury New Zealand
Christchurch is situated in Canterbury region of the South Island and is the second largest city of New Zealand. It represents the getaway to Antarctica, while lying next to Pegasus Bay and the Pacific Ocean.
Overall the city is surrounded by Avon, Heathcote and Waimakariri Rivers, and the Canterbury Plains. The climate is considered to be temperate, with cool and mild summers (maximum temperature 23°C/73.4°F), and cold and frosty winters (temperatures fall below 0°C/32°F frequently).
One of the most popular cycling routes in Christchurch is Coast to Coast Finish. It is a challenging ride of 70.3 km/43 mi, starting from Waimakariri Gorge Road (Bexley) and finishing at Sumner Beach.
Although it is addressed to riders of all levels with good physical state, you should bear in mind that, besides its great length, there are several bumpy and uneven road sections. Actually, it is the last part of the legendary Coast to Coast Race, which starts from West Coast and ends at East Coast, taking place annually in New Zealand.
The last part of the route has spectacular views of the sea. So, just enjoy the best cycling adventure!!!
Relevant activites based in
New Zealand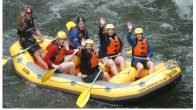 Rafting & Outdoor activities, North Island
/
Kaituna River, New Zealand, North Island
Winter/Spring 2017-2020
Oceania/South America/Europe
January – NEW ZEALAND
River Rafting Tour Class III / IV / V & outdoor experiences on Kaituna River.
Not an expedition. 21 Days – air travel not included.
+ More