ABOUT THE SPOT
RELEVANT ACTIVITIES & OFFERS
Backpacking / Trekking in Kepler Track, Te Anau, Southland New Zealand
Length:
60 km/37 mi (circuit)
Te Anau is a small town, situated in Fiordland region, in the South Island of New Zealand.
The town lies on the eastern side of Te Anau Lake (the second largest lake of New Zealand with more than 400 m/1312 ft  depth) and is literally on the border of Fiordland National Park and Te Wahipounamu World Heritage Area, offering a getaway to awe-inspiring landscapes and magnificent sites of wild nature.
Kepler Track starts and finishes at the Kepler Car Park, or Rainblow Reach, Te Anau. It is a 60 km / 37 mi circuit track and one of the best trekking routes worldwide, traversing the shores of Te Anau and Manapuri Lakes and reaching up to the spectacular Mount Luxmore.
Grasp the unique opportunity to pass by rivers and lakes, cross beech forests, enjoy the truly breathtaking view of the Kepler Mountains and experience the wild nature. If you take the route anti-clockwise, you will get an easier and more gradual climb of 1000 m/3280 ft. If you wish to complete the track, you should allow 3-4 days depending on fitness level. Accommodation is available at Luxmore, Iris Burn and Moturau Huts, as well as at Brod Bay and Iris Burn camping sites.
Note: Camping is prohibited in the shelters at Forest Burn and Hanging Valley. For hut and accommodation information check with the official DOC website. Bookings are essential.
Relevant activites based in
New Zealand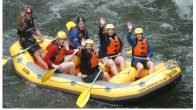 Rafting & Outdoor activities, North Island
/
Kaituna River, New Zealand, North Island
Winter/Spring 2017-2020
Oceania/South America/Europe
January – NEW ZEALAND
River Rafting Tour Class III / IV / V & outdoor experiences on Kaituna River.
Not an expedition. 21 Days – air travel not included.
+ More