ABOUT THE SPOT
RELEVANT ACTIVITIES & OFFERS
Snorkeling in Galu Beach, Kwale, Coast Province Kenya
Water Temperatures:
24-30°C/75.2-86°F
Having earned itself the name "Maldives" of Kenya, Galu beach is situated at 5 km/3 mi away from Diani Beach. It is calmer than the busy Diani Beach and boasts an indigenous flora. The white sandy beach incorporated with the clear turquoise waters offers a perfect choice for an amazing beach holiday.
Because of permitting water temperatures, snorkeling at the Galu beach is a 365 days activity!!! The water temperatures are usually between 24-30°C/75.2-86°F with January-March being the warmest. The beach boasts an "unspoiled" coral reef and spoilt for choice with colorful underwater life. The spot is good for both adults and kids.
Galu beach offers fantastic marine life commonly associated with the coral reef. The ride is almost 2 hours bringing you to a spectacular white sand bank off the reef  which is visible due to the low tide. Some of the expected marine life here include moray eels, snappers scorpion fish just to mention but a few.
Relevant activites based in
Kenya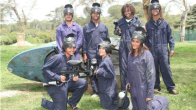 Paintball session, Nairobi
Tuesday to Saturday the charge  is 13$ for 100 balls per head. On Sundays we give a discount whereby the charge is 10$ for 150 balls per person, which is inclusive of the protective gears and all the equipment used in the game.
We also have lunchbox packages that go for 20$ and salad packages for 15$ inclusive of the game. Each game session goes for 1 hour and  30 minutes.
We are open  from 9.30 am to 4.30 pm.
+ More
Sundays 10$ for 150 balls per person