ABOUT THE SPOT
RELEVANT ACTIVITIES & OFFERS
Kayaking in Boulders Beach, Simon's Town, Western Cape South Africa
False Bay is a body of water characterized by Cape Hangklip and Cape Peninsula, located in the South-West of South Africa. The bay is 30 km/18.7 mi wide, offering a Mediterranean climate with warm, dry summers and wet damp winters. The east and western shores of the bay are rocky and mountainous with visible peaks rising from the waters, while the northern side comprises a long curving beach.
Boulders Beach within the beautiful coastline of False Bay is home to a colony of over 2350 penguins!!! The warm waters at this bay offer an amazing kayaking experience as you paddle from Simon's Town waterfront past the civilian and Naval Harbour and into Boulders Beach!!! Kayaking is an all year round activity whether it is summer or winter but dependent on the weather as well.
Kayaking in the winter is also an amazing experience since it is much calmer, however chances of encountering sharks are higher as well. The trip is 2 hours long with breathtaking views of both land and sea. After kayaking, you get to swim with the penguins as well!!!
But one needs to be careful because these adorable birds can bite!! Although it is open to all and no experience necessary, children under 10 years are not permitted to go kayaking.
Relevant activites based in
South Africa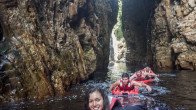 Rafting/Kayaking, Tsitsikamma
/
South Africa, Storms River Mouth, Tsitsikamma, Western Cape
This 2-3 hour adventure is the most popular adventure activity where you can experience the best that Tsitsikamma offers! If you are keen to explore deeper into the Storms River Gorge, and experience the deep, long, quiet pools with ancient forests and deep caves then the kayak and lilo trip is for you!
+ More