ABOUT THE SPOT
RELEVANT ACTIVITIES & OFFERS
Mountain Biking in Mt. Kenya, Mount Kenya National Park, Central Province Kenya
Terrain:
4x4 Trails, dirt road
Located almost at 150 km/93 mi from Nairobi City, Mt. Kenya is located just south of the equator, offering three climbing routes, namely Naro-Moru, Sirimon and Chogoria. Mt. Kenya has magnificent cliffs and glaciers that protect the highest peaks. Highest peaks here are Batian at 5199 m/17057 ft, Nelion at 5188 m/17021 ft and Point Lenana at 4985 m/16355 ft.
Although Mt. Kenya is not the best location when it comes to mountain biking, the unique flora and fauna combined with the rich volcanic geology, make it an equally amazing experience. The terrain mostly comprised of 4×4 tracks and dirt road offers the most spectacular biking experience.
This biking experience takes up to a total of 8 days with 4 days for the ascent and 3 days for the descent. The ascent is Point Lenana at 4985 m/16355 ft and the descent is 40 km/25 mi long and covers a 2500 m/8202 ft of vertical descent.
Steep rocky areas and old forest roads intertwining through the rain forest are a nut cracker to the advanced rider and therefore not recommended for a beginner. Normally each year around February, Mt. Kenya hosts a 10 by 4 biking challenge divided into 2 groups, the hardcore and the elite.
The challenge is an epic descent of 1829 m/6000 ft from a staggering height of 3048 m/10000 ft to 1219 m/4000 ft all in one day!!
Relevant activites based in
Kenya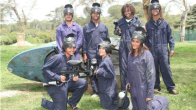 Paintball session, Nairobi
Tuesday to Saturday the charge  is 13$ for 100 balls per head. On Sundays we give a discount whereby the charge is 10$ for 150 balls per person, which is inclusive of the protective gears and all the equipment used in the game.
We also have lunchbox packages that go for 20$ and salad packages for 15$ inclusive of the game. Each game session goes for 1 hour and  30 minutes.
We are open  from 9.30 am to 4.30 pm.
+ More
Sundays 10$ for 150 balls per person