ABOUT THE SPOT
RELEVANT ACTIVITIES & OFFERS
Mountain Biking in Arrowtown, South Island, Otago New Zealand
Arrowtown is a small, former gold-mining town, situated in Otago region, in the South Island, New Zealand. It is only 20 minutes drive from Queenstown (connected through Shotover Gorge) and lies on the banks of Arrow River, one of the richest sources of gold in the 1860's.
It hosts many houses where immigrants from Europe and China used to live back in the era of gold-mining. Arrowtown and the surrounding area was the setting for the legendary films Lord of the Rings trilogy and X-Men Origins. It has four distinct seasons, offering great opportunities for various activities.
Grasp the opportunity to explore Arrowtown and the surrounding area on a mountain bike. Immerse yourself in the cycling adventure and cover miles and miles discovering the rare and wild beauty of the surrounding mountains, hills, gorges and forests! Ride along the beautiful Arrow River and explore the secrets of the historic town.
Note: There is a great number of operators, based in Arrowtown that offer a great variety of guided tours and trails, or bike rental.
Relevant activites based in
New Zealand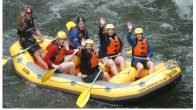 Rafting & Outdoor activities, North Island
/
Kaituna River, New Zealand, North Island
Winter/Spring 2017-2020
Oceania/South America/Europe
January – NEW ZEALAND
River Rafting Tour Class III / IV / V & outdoor experiences on Kaituna River.
Not an expedition. 21 Days – air travel not included.
+ More