ABOUT THE SPOT
RELEVANT ACTIVITIES & OFFERS
Extreme Hiking / Hiking in Yosemite National Park, California USA
Rides:
Over 1000 miles/1609.3 km of paved trails
Yosemite National Park is located near Mariposa, California, USA.
One of the world's most spectacular scenery for exploring and hiking is in Yosemite National Park.The mild weather, the breathtaking landscapes and the over 1000 mi/1609.3 km of trails available, makes it a hiker's oasis. You can enjoy hiking in many ways.
The park offers half day hikes and full day hikes with experienced guides. On half day hikes enjoy an easy and pleasant hike on Valley Floor Loop Trail, which gives you the opportunity to hike through some of the most known spots in Yosemite's Valley, but through less traveled paths. If you prefer a full day hike, enjoy a moderate 10 mi/16 km hike on the steep descent trail of  Sentinel Dome to Yosemite Valley and follow the south rim of the valley, making stops to some breathtaking landscapes like Sentinel Dome, Union Point, Taft Point and Glacier Point.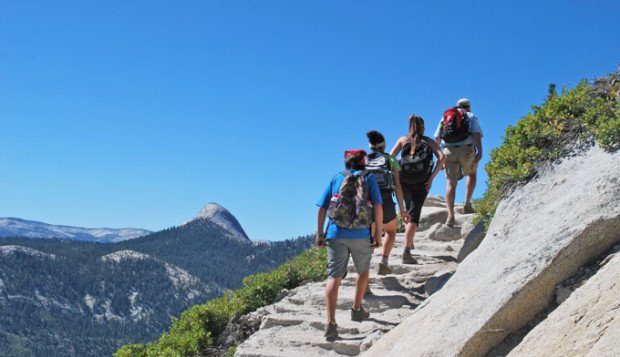 The park also offers extreme day hikes. Half Dome is one of the most popular trails for extreme hiking. It is a one of a kind hiking experience to the iconic Half Dome. It is only offered by reservation, so if you want to follow that trail, make sure to be fully prepared and make a reservation beforehand. It is a strenuous 16 mi/25.8 km hike, which gains 4800 ft/1463 m from the trail-head to summit.
It includes the sometimes intimidating Half Dome Cables. You need a permit in order to hike that trail. The permits are available only online, but Yosemite Mountaineering School has a few for last minute guided hikes.
No relevant activites found
If you are interested in trying out this amazing sport in this spot press the request button so as to give you more information and prices.
BOOKING REQUEST