Mt. Kenya, Mount Kenya National Park
ABOUT THE SPOT
RELEVANT ACTIVITIES & OFFERS
Extreme Hiking / Hiking in Mt. Kenya, Mount Kenya National Park, Central Province Kenya
Located almost at 150 km/93 mi from Nairobi City, Mt. Kenya is located just on the south of equator and offers three climbing routes, namely Naro-Moru, Sirimon and Chogoria.
Mt. Kenya hosts magnificent cliffs and glaciers that protect the highest peaks. Highest peaks here are Batian at 5199 m/17057 ft, Nelion at 5188 m/17021 ft and Point Lenana at 4985 m/16355 ft. Possibility to hike Mt. Kenya is all year round, however, it gets extremely difficult to hike the mountain during the rainy season.
Rainy seasons here run from mid June to October. Hikers are offered several route options which normally take between 4-7 days.
Apart from the stunning mountain scenery, Mt. Kenya boasts diverse wildlife and flora. Hikers have the option to stay in designated camps or mountain hut. People need to carry their own food to the mountain that is why most hikers prefer hiking with cooks, porters and guides.
Relevant activites based in
Kenya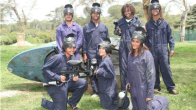 Paintball session, Nairobi
Tuesday to Saturday the charge  is 13$ for 100 balls per head. On Sundays we give a discount whereby the charge is 10$ for 150 balls per person, which is inclusive of the protective gears and all the equipment used in the game.
We also have lunchbox packages that go for 20$ and salad packages for 15$ inclusive of the game. Each game session goes for 1 hour and  30 minutes.
We are open  from 9.30 am to 4.30 pm.
+ More
Sundays 10$ for 150 balls per person