ABOUT THE SPOT
RELEVANT ACTIVITIES & OFFERS
Kiteboarding / Kitesurfing in Mui Ne Bay, Binh Thuan, Vietnam
Winter Wind:
Northern / 12-30 knots/22-55.5 kph
Summer Wind:
Southern / 18 knots/33 kph
Best Period:
December to May
Rainy Season:
June to November
Mui Ne Bay in the south-east edge of Vietnam, overlooking the South China Sea, is considered to be one of the best kite spots in Asia.
Over the last years, Vietnam has become an emerging top adrenaline sports destination and not without a reason! Mui Ne Bay, situated in Binh Thuan Region, meets the most suitable weather and water conditions for practicing kite board. The spot's proximity with the Binh Thuan Desert contributes in maintaining dry weather, unlike the other Asian holiday's destinations.
During the dry season the winds blow constantly, especially, from the north, creating big waves. The seabed is free from coral reefs and rocks and the sandbank extends for more than 2.4 km/1.5 mi long. Usually, during the high season, the central part of the beach attracts many kiters and swimmers, thus making difficult and sometimes dangerous to ride on the spot. During those days, it is highly recommended to better use the western part of the beach.
Mui Ne Bay spot is suitable for beginners and intermediate kiters. The more advanced kiters could probably need to perform their sport in an area, appropriate only for experienced riders, called "water spot". Don't miss this unique location.
Relevant activites based in
Vietnam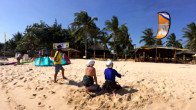 Kitesurfing Beginner ZeroToHero 12hrs (private lesson), Binh Thuan
/
Binh Thuan, Mui Ne, Phan Thiet, Vietnam
Course program:
the spot analysis
flying the trainer kite
set up the equipment
start and land the kite with the help of one assistant
beach lesson flying the 4-line kite
body drag downwind and upwind
do the board recovery in body drag
do the self-rescue and the self-pack down
first water start and ride
riding upwind
+ More
Insurance covering medical expenses in case of accident up to 500USD costs 3USD/day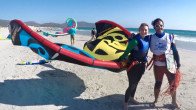 Kitesurfing Beginner Basic 6hrs (private lesson), Binh Thuan
/
Binh Thuan, Mui Ne, Phan Thiet, Vietnam
This course is designed to provide a basic knowledge of kitesurfing from the first body drag to the water start.
Program:
how to do the spot analysis
flying the trainer kite
how to set-up the equipment
start and land the kite with the help of one assistant
beach lesson flying the 4-line kite
body drag downwind and upwind
the board recovery in body drag
the self-rescue and the self-pack down
first water start and ride
+ More
Insurance covering medical expenses in case of accident up to 500 USD costs 3 USD/day