ABOUT THE SPOT
RELEVANT ACTIVITIES & OFFERS
Snorkeling in Wasini Island, Shimoni, Coast Province Kenya
Water Temperatures:
24-30°C/75.2-86°F
Depths :
15-18m / 49-59ft
Located at 75 km/46 mi from Mombasa town and 45 minutes drive from the famous Diani Beach at the southern coast of Mombasa, Wasini Island is a marine lover's heaven, allowing for an absolute example between man and nature.
Wasini Island allows one to see Kenya from a different perspective… no roads, no cars, no electricity and no running water!! The island is 5 km/3 mi in length and 1 km/0.8 mi width. Snorkeling in Wasini is spectacular given the diverse of coral life, both hard and soft, and a variety of colorful fish species.
Accommodating all levels of snorkelers, the island has conducive weather as well. Water temperatures range between 24-30°C/75.2-86°F. From the months of July to September, the temperatures range between 24-26°C/75.2-78.8°F warming up from October through to April with temperatures between 26- 30°C/78.8-86°F. The snorkeling depths range between 15-18 m/49-59 ft. Snorkeling at the shallow waters, offers shallow coral reefs packed with amazing tropical fish species and more often than not, swim around dolphins!!
Relevant activites based in
Kenya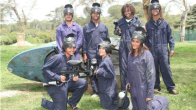 Paintball session, Nairobi
Tuesday to Saturday the charge  is 13$ for 100 balls per head. On Sundays we give a discount whereby the charge is 10$ for 150 balls per person, which is inclusive of the protective gears and all the equipment used in the game.
We also have lunchbox packages that go for 20$ and salad packages for 15$ inclusive of the game. Each game session goes for 1 hour and  30 minutes.
We are open  from 9.30 am to 4.30 pm.
+ More
Sundays 10$ for 150 balls per person