ABOUT THE SPOT
RELEVANT ACTIVITIES & OFFERS
Rafting in Storms River, Tsitsikamma, Western Cape South Africa
Best Months:
September - November
Water Levels:
Medium to High
The Tsitsikamma area is a large wrapped with Afromontane forest and fynbos with deep river gorges, flowing through to the sea and forming spectacular waterfalls and deep kloofs. It is situated on the eastern edge of the Garden Route Between Nature's Valley and Eerste Riviera within the Tsitsikamma National Park.
Rafting is conducted at the amazing Storm River with its waters classified as swift and water levels of medium to high.
Rafting is not only for the adrenalin filled but the spot's steep, fern-filled walls and thickly forested banks over magnificent bird life and wildlife. Rafting trips last for about 5 hours filled with utter excitement. Depending on water levels, you can raft when the water is at low levels or when the river is flowing strongly with rapids up to grade 3 and rock faces as high as 8 m/26 ft in to the deep waters. September to November offer the most rapids with water levels at medium to high.
Advance booking is necessary and the trip normally begins at 7 am.
Relevant activites based in
South Africa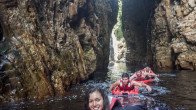 Rafting/Kayaking, Tsitsikamma
/
South Africa, Storms River Mouth, Tsitsikamma, Western Cape
This 2-3 hour adventure is the most popular adventure activity where you can experience the best that Tsitsikamma offers! If you are keen to explore deeper into the Storms River Gorge, and experience the deep, long, quiet pools with ancient forests and deep caves then the kayak and lilo trip is for you!
+ More