ABOUT THE SPOT
RELEVANT ACTIVITIES & OFFERS
Rafting in Landsborough River, Queenstown, Otago New Zealand
Queenstown is considered by many sportsmen as the capital of extreme sports and adventure activities. It is situated in Otago region, in the South Island, New Zealand.
The town is surrounded by Lake Wakatipu and the awe-inspiring Southern Alps, with spectacular mountains such as the Remarkables, Cecil Peak and Ben Lomond. Queenstown and the surrounding area was the setting for the legendary films Lord of the Rings and X-Men Origins. Despite the mountainous landscape, the climate is considered to be oceanic, with warm summers and temperatures that can reach up to 30°C/86°F, and cold winters with frequent snowfalls.
Landsborough River is situated close to Mountain Cook National Park. It begins its course from Mount Hopkins and runs almost parallel with the Southern Alps for approximately 37 mi / 60 km before it merges with Haast River. Grasp the opportunity to enjoy a multi-day white water rafting adventure combining trekking, camping and rafting.
Feel great amounts of adrenaline pumping inside your body and enjoy the thrilling feeling of fighting with the waters during the numerous rapids of the river. You will be transferred from Queenstown by helicopter and have the rare chance to enjoy the breathtaking scenery and wild nature of the area. Don't forget to bring your camera with you!
Grade river: 3-4.
Relevant activites based in
New Zealand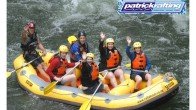 Rafting & Outdoor activities, North Island
/
Kaituna River, New Zealand, North Island
Winter/Spring 2017-2020
Oceania/South America/Europe
January – NEW ZEALAND
River Rafting Tour Class III / IV / V & outdoor experiences on Kaituna River.
Not an expedition. 21 Days – air travel not included.
+ More