ABOUT THE SPOT
RELEVANT ACTIVITIES & OFFERS
Rafting in Ash River, Clarens, Free State South Africa
The Free State is situated on the flat boundless plains in the heart of South Africa. Known locally as the "breadbasket" of South Africa, it is an agricultural city and most of its land lies at 1000 m/3281 ft above sea level. It is the land of rugby, sunny skies and characterized by a continental climate, with warm to hot summers and cool to cold winters.
The Ash River, just outside Clarens, offers the best white water rafting conditions in South Africa thanks to the Lesotho Highlands Water Project which has a great deal of influential effect. Experience the splash and feel the adrenalin rush of a life time!! White water rafting here is an all year round adventure and boast 17 rapids.
Graded between 2-4, it covers a distance of 17 km/10.5 mi and is a guided tour with spectacular scenic vegetation and magnificent bird-life. Age limit here is from 6 to 106 years-old and the minimum pax is 2.
Relevant activites based in
South Africa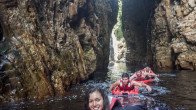 Rafting/Kayaking, Tsitsikamma
/
South Africa, Storms River Mouth, Tsitsikamma, Western Cape
This 2-3 hour adventure is the most popular adventure activity where you can experience the best that Tsitsikamma offers! If you are keen to explore deeper into the Storms River Gorge, and experience the deep, long, quiet pools with ancient forests and deep caves then the kayak and lilo trip is for you!
+ More