ABOUT THE SPOT
RELEVANT ACTIVITIES & OFFERS
Kayaking in Lake Wakatipu, Glenorchy, Otago New Zealand
Glenorchy is a small settlement, situated in Otago region in the South Island, New Zealand. It lies on the northern side of Lake Wakatipu and is surrounded by Richardson and Humboltd Ranges.
It is located at 44 km/27 mi from Queenstown (a breathtaking, scenic drive) and consists the gateway to Fiordland and Mount Aspiring National Parks. Glenorchy and the surrounding area was the setting for the legendary films Lord of the Rings and X-Men Origins.
Lake Wakatipu is the longest lake in New Zealand (80 km/49 mi length) and the second largest in South Island. It is surrounded by glaciated mountains (the highest is Mount Earnslaw) and is drained by Kawarau River.
Wakatipu lake is unique, since it has a tide (the water level rises and drops about 10 cm/3 in in 25 min cycles) and consists a popular destination for the lovers of kayaking. From the shores of Glenorchy you can easily access the secluded Pig and Pigeon Islands. The view from the surrounding mountains is just breathtaking!
Relevant activites based in
New Zealand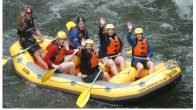 Rafting & Outdoor activities, North Island
/
Kaituna River, New Zealand, North Island
Winter/Spring 2017-2020
Oceania/South America/Europe
January – NEW ZEALAND
River Rafting Tour Class III / IV / V & outdoor experiences on Kaituna River.
Not an expedition. 21 Days – air travel not included.
+ More