ABOUT THE SPOT
RELEVANT ACTIVITIES & OFFERS
Paintball in Karen, Nairobi, Nairobi Kenya
Duration:
1 and a half hours play time
Karen is a suburb of Nairobi City center. It is located in the south west and approximately at 22 km/14 mi from the city center, also known for its European population. The neighborhood was named after the famous Danish author Karen Blixen, who wrote the colonial memoir Out of Africa.
Karen also offers you a chance to show off your crawling skills, by evading crossfire and going for your enemy's territory with an exciting paintball experience.
Paintballs are made of a special biodegradable, non-toxic, water soluble paint and the game is played with a potentially limitless variety of rules and variations, which are specified before the game begins. Tournaments can also be arranged and after the end of the game, the group organizer is honored with a paintball mug.
And… no cheating during the warfare!! The game can last from seconds to hours and in some cases even days!!!
Relevant activites based in
Kenya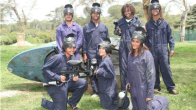 Paintball session, Nairobi
Tuesday to Saturday the charge  is 13$ for 100 balls per head. On Sundays we give a discount whereby the charge is 10$ for 150 balls per person, which is inclusive of the protective gears and all the equipment used in the game.
We also have lunchbox packages that go for 20$ and salad packages for 15$ inclusive of the game. Each game session goes for 1 hour and  30 minutes.
We are open  from 9.30 am to 4.30 pm.
+ More
Sundays 10$ for 150 balls per person