ABOUT THE SPOT
RELEVANT ACTIVITIES & OFFERS
Mountain Biking in Deans Bank Track, Wanaka, Otago New Zealand
Wanaka is a small town in Central Otago in the South Island of New Zealand, situated on the south side of Lake Wanaka.
The town is surrounded by the awe-inspiring Southern Alps, with spectacular mountains such as the Crown Range, Haast Pass, Roys Peak and Pisa Range and is close to Mount Aspiring National Park (World Heritage Area). Despite the mountainous scenery, the climate is considered to be continental, with fairly warm summers and temperatures that can reach up to 25°C/77°F, and cold winters with frequent snowfalls.
For the mountain biking lovers, Deans Bank Track is one of the best rides you can experience. It starts at 4 mi / 5 km away from Wanaka, on the north side of Albert Town and gets up to Dublin Bay. It is a magnificent one-way loop track (7 mi/11.75 km) with some technical obstacles, tight corners, a few jumps, numerous climbs and descends. When you get to the pine forest, it gets a bit more demanding. Enjoy the breathtaking view of Upper Clutha River.
Note: Intermediate level.
Relevant activites based in
New Zealand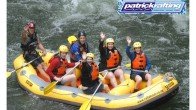 Rafting & Outdoor activities, North Island
/
Kaituna River, New Zealand, North Island
Winter/Spring 2016-2017
Oceania/South America/Europe
January – NEW ZEALAND
River Rafting Tour Class III / IV / V & outdoor experiences on Kaituna River.
Not an expedition. 21 Days – air travel not included.
+ More