ABOUT THE SPOT
RELEVANT ACTIVITIES & OFFERS
Wind Surfing in Mui Ne Bay, Binh Thuan, Vietnam
Winter Wind:
Northern / 12-30 knots/22-55.5 kph
Summer Wind:
Southern / 18 knots/33 kph
Best Period:
December to May
Rainy Season:
June to November
Average Air Temperature:
27°C / 80.6°F
Mui Ne Bay, in the south part of Vietnam, is a new but very fashionable water-sports destination in the South East Asia region. The distinctive weather conditions of the region makes the spot a unique wind surfing training destination.
Mui Ne Bay, overlooking the South China Sea, is an emerging for adrenaline activities destination. Throughout the dry season the perfect wind conditions and the large, wide beach free of coral reefs and with sandy sea bottom, offer exceptional opportunity for windsurfing. Due to the proximity with the Binh Thuan Desert, Mui Ne enjoys a dry microclimate with strong northern winds almost every day.
The beach in Mui Ne stretches for more than 15 km/9.3 mi long and the waves formed by the wind can reach more than 4 m /13 ft high. Although the experience of extreme sports tourism concept is relatively new in the area, several professional schools and centers appear to become operational. However, you need to pay attention when you make your choice of local operator!!
Relevant activites based in
Vietnam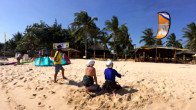 Kitesurfing Beginner ZeroToHero 12hrs (private lesson), Binh Thuan
/
Binh Thuan, Mui Ne, Phan Thiet, Vietnam
Course program:
the spot analysis
flying the trainer kite
set up the equipment
start and land the kite with the help of one assistant
beach lesson flying the 4-line kite
body drag downwind and upwind
do the board recovery in body drag
do the self-rescue and the self-pack down
first water start and ride
riding upwind
+ More
Insurance covering medical expenses in case of accident up to 500USD costs 3USD/day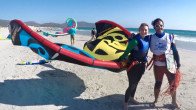 Kitesurfing Beginner Basic 6hrs (private lesson), Binh Thuan
/
Binh Thuan, Mui Ne, Phan Thiet, Vietnam
This course is designed to provide a basic knowledge of kitesurfing from the first body drag to the water start.
Program:
how to do the spot analysis
flying the trainer kite
how to set-up the equipment
start and land the kite with the help of one assistant
beach lesson flying the 4-line kite
body drag downwind and upwind
the board recovery in body drag
the self-rescue and the self-pack down
first water start and ride
+ More
Insurance covering medical expenses in case of accident up to 500 USD costs 3 USD/day