Inscription Point, Kurnell
/
New South Wales Australia
OVERVIEW
HOW TO GO
WHERE TO STAY
HAVE FUN
SCHOOLS & SHOPS
GALLERY
Snorkeling in Inscription Point, Kurnell, New South Wales Australia
Maximum Depth:
12m/39.4ft
Kurnell is a suburb in southern Sydney, at about 22km/14mi in the south of Sydney's CBD (Central Business District). Kurnell is on the southern headland of Botany Bay, just opposite the suburb of La Perouse. Kurnell boasts some of Sydney's top dive sites.
Inscription Point or Captain Cook's Landing Place is a great spot for snorkeling and diving. It is close to another popular dive spot, the Steps.
Snorkelers are able to witness an amazing marine life with lots of weedy sea dragons amongst the kelp, giant cuttlefish, octopus, moray eel, blue groper, eagle rays, Port Jackson shark, nudibranch, yellowtail and cat fish to name just a few.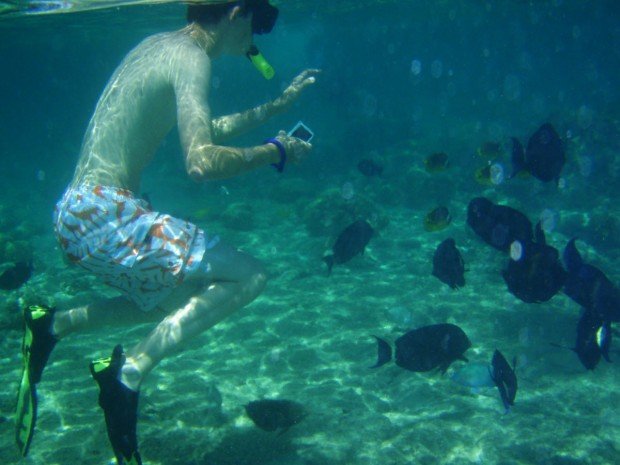 The average depth here is at 6m/19.7ft and the maximum depth is at 12m/39.4ft. Visibility is generally low, but it is better on an incoming tide. Water temperature is up to 21 degrees in summer and early autumn months and between 14-18 degrees in winter.
It is a crowded spot, especially during weekends. Finally, Inscription Point is located in the Kurnell National Park, so you are required to pay an entry fee to the park. Note: be careful of divers.
How to Get to Destination
37.4km(23.4miles) 40mins
Head north on George St towards Angel Pl. Turn right onto Bridge St. Turn right into Macquarie St. Join Metroad 1 via the ramp to Wollongong / Canberra / Eastern Suburbs / Airport. Take the exit on the right Metroad 1 to Rockdale / Wollongong. Slight left at General Holmes Drive / Metroad 1. Continue to follow the Metroad 1. Continue to The Grand Parade (signs for Cronulla / Miranda). Continue to Sandringham St. Turn left on Rocky Point Rd. Continue to Taren Point Rd. Turn left at Captain Cook Drive. Go through 4 roundabouts.At the roundabout, continue straight to stay on the street Captain Cook Drive. Turn left to stay on Captain Cook Drive.
BY AIR
Sydney airport,
26km(16.3miles) 35mins drive.
BY TRAIN
For train information go to CityRail.
Where to Stay
There are plenty of accommodation options to suit every taste and every budget.
Where to Have Fun
There is a plethora of restaurants with different cuisines, not to be missed, after an exciting performance of your favorite sport.
Schools & Shops
There is a vast number of schools and shops.