ABOUT THE SPOT
RELEVANT ACTIVITIES & OFFERS
Climbing Walls in Basecamp, Wanaka, Otago New Zealand
Wanaka is a small town in Central Otago in the South Island of New Zealand, situated on the south side of Lake Wanaka.
The town is surrounded by the awe-inspiring Southern Alps, with spectacular mountains such as the Crown Range, Haast Pass, Roys Peak and Pisa Range and is close to Mount Aspiring National Park (World Heritage Area). Despite the mountainous landscape, the climate is considered to be continental, with fairly warm summers and temperatures that can reach up to 25°C/77°F, and cold winters with frequent snowfalls.
For the wall climbing lovers, Basecamp is the perfect place to visit. It is the only organized climbing facility in Wanaka, offering outdoor and indoor climbing. The outdoor wall has 21 lines (grades: up to 26) and gives you the feeling that you are in a natural environment among mountains. For those who prefer less demanding climbing, try the indoor walls (suitable for children as well), including a 19 ft / 6 m high overhang.
Qualified instructors available on spot.
Relevant activites based in
New Zealand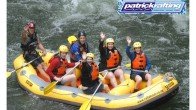 Rafting & Outdoor activities, North Island
/
Kaituna River, New Zealand, North Island
Winter/Spring 2017-2020
Oceania/South America/Europe
January – NEW ZEALAND
River Rafting Tour Class III / IV / V & outdoor experiences on Kaituna River.
Not an expedition. 21 Days – air travel not included.
+ More