Rees-Dart Track, Glenorchy
ABOUT THE SPOT
RELEVANT ACTIVITIES & OFFERS
Backpacking / Trekking in Rees-Dart Track, Glenorchy, Otago New Zealand
Glenorchy is a small settlement, situated in Otago region at South Island in New Zealand. It lies on the northern side of Lake Wakatipu and is surrounded by Richardson and Humboltd Ranges.
It is located at 44 km/27 mi from Queenstown (a breathtaking, scenic drive) and consists the gateway to Fiordland and Mount Aspiring National Parks. Glenorchy and the surrounding area was the setting for the legendary films Lord of the Rings and X-Men Origins.
The Rees-Dart Track is a 4-5 day circuit track (average 6-8 h walking per day) in the southern part of Mt Aspiring National Park (World Heritage Area).
It follows Rees and Dart Rivers and offers a varied and magnificent scenery. Grasp the unique opportunity to pass by rivers and lakes, cross ancient forests, enjoy the truly breathtaking view of mountains and experience the wild nature of the National Park. If you wish to complete the track, you should allow 4-5 days depending on fitness level.
Note: Camping is allowed except for the alpine areas between Shelter Rock and Dart Huts, and Cascade Saddle. For hut and accommodation information check with the official DOC website. Bookings are essential.
Relevant activites based in
New Zealand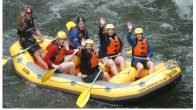 Rafting & Outdoor activities, North Island
/
Kaituna River, New Zealand, North Island
Winter/Spring 2017-2020
Oceania/South America/Europe
January – NEW ZEALAND
River Rafting Tour Class III / IV / V & outdoor experiences on Kaituna River.
Not an expedition. 21 Days – air travel not included.
+ More