ABOUT THE SPOT
RELEVANT ACTIVITIES & OFFERS
Quad Biking in Wild Coast, East London, Eastern Cape South Africa
Adventure Quad Bike Tours:
3 days organised tours
Wild Coast is an exquisite, breathtaking coast section of the Eastern Cape of South Africa. It stretches from the Mtamvuna River in the north to the Kei River in the south. The coastline stretches into a remarkable 280 km/173 mi with an incredible magnificent coastline, craggy cliff faces and wild beaches.
The climate at the Wild Coast is generally mild with winters getting as low as 6°C/42.80°F and summers getting up to 28°C/82.40°F.
The Wild Coast offers an amazing quad biking experience in every sense of it. The quad biking tours range from 2 hours fun rides to 3 days adventures. The 2 hours trip is a 30 km/18.6 mi route at the Rovers Race Track while the 3 days adventure starts from the Kei Mouth to the Kob Inn. General configuration of the route comprises of swollen rivers, rocky climbs and forest mud. Biking is open to all and normally before embarking on either of the trips, there is an introductory training.
The tours are guided hence safety is assured in case of any difficulty in tackling any obstacles. Advance booking is necessary with a minimum pax of 4.
Relevant activites based in
South Africa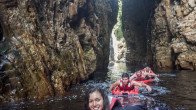 Rafting/Kayaking, Tsitsikamma
/
South Africa, Storms River Mouth, Tsitsikamma, Western Cape
This 2-3 hour adventure is the most popular adventure activity where you can experience the best that Tsitsikamma offers! If you are keen to explore deeper into the Storms River Gorge, and experience the deep, long, quiet pools with ancient forests and deep caves then the kayak and lilo trip is for you!
+ More