ABOUT THE SPOT
RELEVANT ACTIVITIES & OFFERS
Snorkeling in Nyali Beach, Mombasa, Coast Province Kenya
Water Temperatures:
24-30°C/75.2-86°F
Best Months:
October to March
Nyali Beach is located at 10 km/6 mi from Mombasa's city center and approximately at 15 km/9 mi from the Mombasa International airport. Nyali Beach is the whitest and widest one along the north coast. The beach actually slopes at an angle and water depths actually depend on tides. The amazing part is that there is always water even at low springs compared to other locations of the north coast.
Snorkeling at Nyali Beach is basically most of the year although visibility is scarce between July and August due to silting and high seas.
Nyali Beach boasts turquoise lagoons, offshore reefs and irresistible marine species. The breathtaking coral gardens is an experience one cannot afford to miss.
The reef at Nyali Beach is in very good condition and provides warm and calm conditions for snorkeling. The water is usually warm all year doing 24-30°C/75.2-86°F and the need for wet suits is almost nil. Best times for amazing snorkeling experience would be between October through to March. Visibility is at 12 m/39 ft and a maximum depth of 6 m/19 ft. One has the chance to see all types of marines species of different colors and shapes including harmless whale sharks!!
Relevant activites based in
Kenya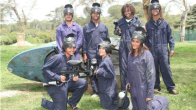 Paintball session, Nairobi
Tuesday to Saturday the charge  is 13$ for 100 balls per head. On Sundays we give a discount whereby the charge is 10$ for 150 balls per person, which is inclusive of the protective gears and all the equipment used in the game.
We also have lunchbox packages that go for 20$ and salad packages for 15$ inclusive of the game. Each game session goes for 1 hour and  30 minutes.
We are open  from 9.30 am to 4.30 pm.
+ More
Sundays 10$ for 150 balls per person