ABOUT THE SPOT
RELEVANT ACTIVITIES & OFFERS
Rafting in Tugela River, Drakensberg, KwaZulu-Natal South Africa
Rising from the Eastern Cape and running along the Kwazulu-Natal's western border, the Drakensberg mountain range is the highest in South Africa standing at 3482 m/11424 ft in height. The mountains are capped by a layer of basalt of 1400 m/4593 ft thick and offers amazing flora and fauna.
The 30 km/18.7 mi stretch of river, also known as The Canyon, offers one of the most thrilling white water rafting in South Africa. The river boasts excellent rafting conditions with awesome rapids and it cuts through two areas, The Canyon and the Tugela Gorge further down stream.
The rafting activity normally begins with a 45 minutes on flat water with grade 1 rapids, allowing you to get the hang of it. Further on it is all bump and riding on rapids, ranging between grade 3-5!! No experience is necessary as it is a guided tour with an expert in control.
Relevant activites based in
South Africa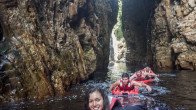 Rafting/Kayaking, Tsitsikamma
/
South Africa, Storms River Mouth, Tsitsikamma, Western Cape
This 2-3 hour adventure is the most popular adventure activity where you can experience the best that Tsitsikamma offers! If you are keen to explore deeper into the Storms River Gorge, and experience the deep, long, quiet pools with ancient forests and deep caves then the kayak and lilo trip is for you!
+ More