Kawarau River, Queenstown
ABOUT THE SPOT
RELEVANT ACTIVITIES & OFFERS
Rafting in Kawarau River, Queenstown, Otago New Zealand
Dog Leg rapid:
1312ft / 400m
Queenstown is considered by many as the capital of extreme sports. It is situated in Otago region, in the South Island, New Zealand, and is surrounded by Lake Wakatipu and the awe-inspiring Southern Alps.
Kawarau River lies on the east side of Queenstown and begins its course from Lake Wakatipu and extends 37 mi/60 km further away, until it merges with Lake Dunstan. The river and the surrounding area were the setting for the film Lord of the Rings. Kawarau River is ideal for beginner rafters offering a unique and exhilarating experience.
Although the water is calm in most parts, you won't miss the thrilling feeling of fighting with the river during the four rapids. You'll have the chance to relish the remarkable 1312 ft/400 m long Dog Leg rapid. Enjoy the magnificent and wild scenery, as well as the view while passing under the historic Kawarau Bridge. Don't forget to bring your bathing suit and a towel with you!
Grade river: 2-3. If you wish to enjoy rafting, you can choose one of the rafting companies based in Queenstown. Hotel pick-up can be arranged, if required.
Relevant activites based in
New Zealand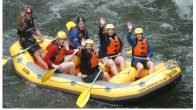 Rafting & Outdoor activities, North Island
/
Kaituna River, New Zealand, North Island
Winter/Spring 2017-2020
Oceania/South America/Europe
January – NEW ZEALAND
River Rafting Tour Class III / IV / V & outdoor experiences on Kaituna River.
Not an expedition. 21 Days – air travel not included.
+ More