ABOUT THE SPOT
RELEVANT ACTIVITIES & OFFERS
Kayaking in Diani Beach, Kwale, Coast Province Kenya
Water Profile:
Still waters
Diani Beach is located at 30 km/18 mi south of Mombasa town, 45 km/27 mi from Mombasa International Airport and 5 km/3 mi from the Ukunda airstrip. The beach stretches to about 25 km/15 mi with stunning coral reef and huge marine life. The pearly white sand blends into warm blue waters making it a perfect spot for beach holiday!!
The spot is famous for its cross shore, consistent winds, sheltered and flat water conditions allowing for great Kayaking for both amateurs and experienced practitioners.
Wild open wind swept beaches set amidst a background of unspoilt uninhabited tropical bush, crystal clear blue skies, the unbroken swish of the ocean as it laps against deserted shores, sand plumes picking up by a steady 20 knot breeze, allow for a kayaking experience you would never forget. Weather here is under the tropical climate and it rarely gets below 24°C/75.2°F. Rainy seasons are between April-May and October-November with intervals of clear blue skies.
The spacious nature of the beach allows for smooth sailing with no one to crowd you, making it just the right paradise getaway needed.
Relevant activites based in
Kenya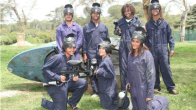 Paintball session, Nairobi
Tuesday to Saturday the charge  is 13$ for 100 balls per head. On Sundays we give a discount whereby the charge is 10$ for 150 balls per person, which is inclusive of the protective gears and all the equipment used in the game.
We also have lunchbox packages that go for 20$ and salad packages for 15$ inclusive of the game. Each game session goes for 1 hour and  30 minutes.
We are open  from 9.30 am to 4.30 pm.
+ More
Sundays 10$ for 150 balls per person