ABOUT THE SPOT
RELEVANT ACTIVITIES & OFFERS
Paintball in Bushveld, Limpopo, Limpopo South Africa
The Bushveld is a sub-tropical woodland ecoregion of Southern Africa, encompassing most of Limpopo Province and a small part of the North West Province of South Africa, the Central and North-East Districts of Botswana and the Matabeleland South and part of the Matabeleland North provinces of Zimbabwe.
Paintballing in Limpopo is performed in the Bushveld surroundings just behind the Swadini mini Golf course in which one can set a competition for an extreme paintball challenge. Normally the teams are divided into two separate teams and supplied with air guns. The guns are guns per se, with a barrel to launch the paintball, a trigger to activate the launch procedure and a reservoir to hold extra balls.
The paint-balls on the other hand, are small round containers that hold paint and have a hard shell for long distance launching. The battle is simple, or seems to be, each team goes in the field to capture the opponents flag and bring it back to your base without being eliminated. There are referees with a hawk's eye to toss you out, once you are eliminated. The adventure lasts for 1 hour and minimum age admitted is 12 years-old with a minimum of 6 persons.
Relevant activites based in
South Africa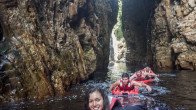 Rafting/Kayaking, Tsitsikamma
/
South Africa, Storms River Mouth, Tsitsikamma, Western Cape
This 2-3 hour adventure is the most popular adventure activity where you can experience the best that Tsitsikamma offers! If you are keen to explore deeper into the Storms River Gorge, and experience the deep, long, quiet pools with ancient forests and deep caves then the kayak and lilo trip is for you!
+ More