ABOUT THE SPOT
RELEVANT ACTIVITIES & OFFERS
Horseback Riding in Mt. Kenya, Mount Kenya National Park, Central Province Kenya
Skill :
Intermediate- Experienced
Located almost at 150 km / 93 mi from Nairobi City, Mt. Kenya is located just south of the equator and has 3 climbing routes, namely Naro-Moru, Sirimon and Chogoria. Mt. Kenya has magnificent cliffs and glaciers that protect the highest peaks. Highest peaks here are Batian at 5199 m / 17057 ft, Nelion at 5188 m / 17021 ft and Point Lenana at 4985 m / 16355 ft.
Famous for its fierce alpine terrain and being very jagged and cracked, not forgetting its multi-horned head. Mt. Kenya has several small glaciers thus it is cold all year round, though mornings are sunny and dry.
Apart from the stunning mountain scenery, Mt. Kenya boasts diverse wildlife and flora.
Horseback riding in Mt. Kenya is an experience one cannot afford to miss… the thrill that comes from connecting to nature is unmistakably an experience of a life time!! Gentle breeze, see wild animals up close from a high vantage.
Mt. Kenya horse riding is for riders with experience. Shadowed by the snow capped peak of Mt. Kenya, the landscape includes lakes beneath forests, plains and glades.
Relevant activites based in
Kenya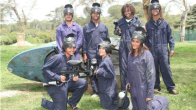 Paintball session, Nairobi
Tuesday to Saturday the charge  is 13$ for 100 balls per head. On Sundays we give a discount whereby the charge is 10$ for 150 balls per person, which is inclusive of the protective gears and all the equipment used in the game.
We also have lunchbox packages that go for 20$ and salad packages for 15$ inclusive of the game. Each game session goes for 1 hour and  30 minutes.
We are open  from 9.30 am to 4.30 pm.
+ More
Sundays 10$ for 150 balls per person