ABOUT THE SPOT
RELEVANT ACTIVITIES & OFFERS
Mountain Biking in Port Hills, Christchurch, Canterbury New Zealand
Christchurch is situated in Canterbury region of the South Island and is the second largest city of New Zealand. It represents the getaway to Antarctica, while lying next to Pegasus Bay and the Pacific Ocean.
Overall the city is surrounded by Avon, Heathcote and Waimakariri Rivers, and the Canterbury Plains. The climate is considered to be temperate, with cool and mild summers (maximum temperature 23°C/73.4°F), and cold and frosty winters (temperatures fall below 0°C/32°F frequently).
One of the best and most popular mountain bike sites in Christchurch is Port Hills, a huge area of hills, forests and valleys between the city and Lyttelton port. Two of the best freeride/downhill tracks start at the Bowenvale Park, addressed to advanced and expert riders.
The Lava Flow Track is a 1.5 km/1640.4 yd single track with many technical difficulties, throughout and a rocky and demanding terrain (grade 4-5). The Bowenvale Downhill Track is a 3.15 km/1 mi 1684.9 yd single track that gradually gets difficult and harder, with a rough and technical terrain (grade 3).
Note: Have spare tubes with you, since snake bites are quite common.
Relevant activites based in
New Zealand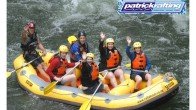 Rafting & Outdoor activities, North Island
/
Kaituna River, New Zealand, North Island
Winter/Spring 2016-2017
Oceania/South America/Europe
January – NEW ZEALAND
River Rafting Tour Class III / IV / V & outdoor experiences on Kaituna River.
Not an expedition. 21 Days – air travel not included.
+ More