ABOUT THE SPOT
RELEVANT ACTIVITIES & OFFERS
Mountain Biking in Living Springs, Christchurch, Canterbury New Zealand
Uphill single-track:
1.5 km/1640.4 yd
Christchurch is situated in Canterbury region of the South Island, and is the second largest city of New Zealand. It represents the getaway to Antarctica, while lying next to Pegasus Bay and the Pacific Ocean.
Overall the city is surrounded by Avon, Heathcote and Waimakariri Rivers, and the Canterbury Plains. The climate is considered to be temperate, with cool and mild summers (maximum temperature 23°C/73.4°F), and cold and frosty winters (temperatures fall below 0°C/32°F frequently).
One of the best and most popular mountain bike sites near Christchurch is Living Springs. It is addressed to riders of all levels and has a great number of tracks you can choose from, depending on your skills and stamina.
Along with 6 km/3 mi of built trails for the more advanced riders, there are 4WD Climb (a steep uphill track that takes you to the pine forest), the Pines (1.5 km/1640.4 yd uphill single-track), Zane's (single-track with some technical sections), Foreshore Track (a flat and relatively easy 4WD track).
Note: Some tracks become dangerous and slippery when wet.
Relevant activites based in
New Zealand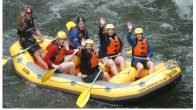 Rafting & Outdoor activities, North Island
/
Kaituna River, New Zealand, North Island
Winter/Spring 2017-2020
Oceania/South America/Europe
January – NEW ZEALAND
River Rafting Tour Class III / IV / V & outdoor experiences on Kaituna River.
Not an expedition. 21 Days – air travel not included.
+ More