ABOUT THE SPOT
RELEVANT ACTIVITIES & OFFERS
Paragliding in Kerio Valley, Eldoret, Rift Valley Kenya
Best Months:
December and March
Wind speed:
15 kph/9.32 mph
Kerio Valley with its clear blue skies is located at 500 km/310 mi from Nairobi City. It is one of the landmark features of the Great Rift Valley in Kenya. Kerio Valley descends at 1219 m/4000 ft. The valley consists of semi - tropical vegetation on the slopes and dry thorn bush at the base. Kerio Valley's eroded blocks of the Eastern Rift Valley provide with a magnificent scenery.
Although paragliding has not really picked in Kenya, Kerio Valley's eroded blocks of the Eastern Rift Valley provide a magnificent scenery when paragliding. Clear blue skies and not many aircraft's flying make it a perfect paragliding spot.
Although the paragliding flights can last for hours and cover hundreds of kilometers, the normal range will be between 1-2 hours and some tens of kilometers. The popular take off spot is near the Kerio View Hotel and landing is mostly at the take off spot however you can land anywhere. Wind direction here is mostly from north to south and a steady easterly perfect for take off and landing. Average wind is at 15 kph/9.32 mph.
Best times to go paragliding are between the months of December and March when winds are strong.
Relevant activites based in
Kenya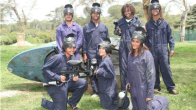 Paintball session, Nairobi
Tuesday to Saturday the charge  is 13$ for 100 balls per head. On Sundays we give a discount whereby the charge is 10$ for 150 balls per person, which is inclusive of the protective gears and all the equipment used in the game.
We also have lunchbox packages that go for 20$ and salad packages for 15$ inclusive of the game. Each game session goes for 1 hour and  30 minutes.
We are open  from 9.30 am to 4.30 pm.
+ More
Sundays 10$ for 150 balls per person