ABOUT THE SPOT
RELEVANT ACTIVITIES & OFFERS
Snowboarding in Porters, Christchurch, Canterbury New Zealand
Open:
Late June - late September
Freestyle snowboarding:
Community Park
Christchurch is situated in Canterbury region of the South Island, and is the second largest city of New Zealand. It represents the getaway to Antarctica, while lying next to Pegasus Bay and the Pacific Ocean.
Overall the city is surrounded by Avon, Heathcote and Waimakariri Rivers, and the Canterbury Plains. The climate is considered to be temperate, with cool and mild summers (maximum temperature 23°C/73.4°F), and cold and frosty winters (temperatures fall below 0°C/32°F frequently).
One of the biggest ski areas near Christchurch is Porters. It is situated next to Lake Lyndon, near Porters Pass, and is located at 89 km/55 mi from Christchurch (the closest ski area to the city). The site is open from late June to late September and offers a great destination for the lovers of snowboarding. Porters, with its varied terrain, is addressed to snowboarders of all levels.
The spot provides a big area for learners, as well as more demanding terrain on the mountain for the advanced snowboarders (Bluff Face and Big Mama trails). If you prefer freestyle snowboarding, don't miss the Community Park with a great variety of jumps, lips, boxes, rails and wall-rides. Enjoy the breathtaking alpine view!
Relevant activites based in
New Zealand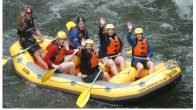 Rafting & Outdoor activities, North Island
/
Kaituna River, New Zealand, North Island
Winter/Spring 2017-2020
Oceania/South America/Europe
January – NEW ZEALAND
River Rafting Tour Class III / IV / V & outdoor experiences on Kaituna River.
Not an expedition. 21 Days – air travel not included.
+ More