ABOUT THE SPOT
RELEVANT ACTIVITIES & OFFERS
Heli Skiing in Mount Hutt, Methven, Canterbury New Zealand
Vertical lift:
1,000 m/3,280 ft
Level:
Intermediate/expert
Methven is a small town in Canterbury region of the South Island. It is only 1.5 h drive at the west of Christchurch, the second largest city of New Zealand and is situated close to Mount Hutt, in the heart of Southern Alps.
Methven has hot and dry summers, with temperatures that can reach up to 30°C/86°F, and cold winters with frequent snowfalls in the surrounding mountains. Although during summer it remains a relaxed and uncrowded town, during winter it is converted to a tourist attraction due to the nearby ski fields.
One of the biggest ski resorts near Methven (35 min drive) is Mt Hutt. It is situated in the Craigieburn Range (in the heart of Southern Alps) and consists a popular destination for the lovers of alpine skiing. Intermediate and advanced skiers and snowboarders can enjoy the ultimate activity of heli-skiing here in Mt Hutt (outside the ski resort).
You will be transferred by helicopter (there is no other access) to untouched private mountain terrains. Enjoy a great variety of trails for intermediate and expert runners or create your own, experience the ultimate chutes and ski on steep slopes. Try the North Peak Run, the Black Hills or the legendary Taylor Range. Some runs offer vertical lift up to 1000 m/3280 ft! Don't forget to bring your sunglasses with you!
Relevant activites based in
New Zealand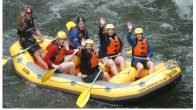 Rafting & Outdoor activities, North Island
/
Kaituna River, New Zealand, North Island
Winter/Spring 2017-2020
Oceania/South America/Europe
January – NEW ZEALAND
River Rafting Tour Class III / IV / V & outdoor experiences on Kaituna River.
Not an expedition. 21 Days – air travel not included.
+ More