ABOUT THE SPOT
RELEVANT ACTIVITIES & OFFERS
Horseback Riding in Maasai Mara National Reserve, South Rift Valley, Rift Valley Kenya
Weight Limit:
95 kg/209 lb
Maasai Mara covers about 1500 km²/579.15 mi² and consists of gently rolling hills, acacia and woodland trees, watered by the Mara and Talek rivers. Landscape at the Mara is stunningly free and abundantly rich in wildlife, allowing for magnificent viewing while horseback riding across a unique and out of common African setting.
Experience the thrill as you come to even terms with the wild animals on a horseback and breathtaking scenic views!! Horseback riding in Maasai Mara is a unique experience and will definitely linger in your memories for a long time. The horseback riding safaris are normally tailored to run for around 10 days and camping facilities are offered.
These guided tours are conducted by qualified horse men/ women. Daily riding lasts between 4-6 hours at a moderate to fast pace. Riders need to be fit at all paces and able to gallop your way out of danger. The maximum weight limit is 95 kg/209 lb.
Since the Mara is within the Equator's proximity, there are no winters nor summers. Rainy seasons here are April – May and November while the hottest months are Febraury – March and September- October.
Relevant activites based in
Kenya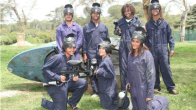 Paintball session, Nairobi
Tuesday to Saturday the charge  is 13$ for 100 balls per head. On Sundays we give a discount whereby the charge is 10$ for 150 balls per person, which is inclusive of the protective gears and all the equipment used in the game.
We also have lunchbox packages that go for 20$ and salad packages for 15$ inclusive of the game. Each game session goes for 1 hour and  30 minutes.
We are open  from 9.30 am to 4.30 pm.
+ More
Sundays 10$ for 150 balls per person