ABOUT THE SPOT
RELEVANT ACTIVITIES & OFFERS
Backpacking / Trekking in Cordillera Huayhuash, Andes, Peru
Peru or the Republic of Peru is the third largest country in South America, located on the west side of the continent and straddling part of the Andes mountain range. The country is well-known for the ancient city of the Incas, Machu Picchu. It is a remarkable archaeological location and also an UNESCO World Heritage site that attracts visitors from all over the world.
With superb natural beauty, impressive mountain range and rainforest, Peru has plenty of extreme adventures on offer, including climbing and hiking in the mountains. The Cordillera Huayhuash nestles in the Andes. It is situated in the boundaries of the Ancash Region, Huanuco Region and Lima Region.
The location is well-known for its high peaks, including Yerupaja, the second highest mountain in the country and Siula Grande, famous by the book and film Touching the Void. Immerse yourself in the beauty of this region and discover the high passes, the spectacular crystal water lakes and hot springs, and the interesting flora and fauna. It takes between 10 to 14 days to circuit Huayhuash, depending on the chosen route. Keep in mind that the range is not as famous as Cordillera Blanca, but it is very impressive. Finally, Huaraz city is located at the foot of the mountain range and it is the starting point of this amazing trekking experience.
Relevant activites based in
Peru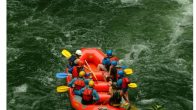 Rafting & Outdoor activities, Apurímac River
Winter/Spring 2017-2020
Oceania/South America/Europe
March – PERU
River Rafting Tour Class III / IV / V & outdoor experiences on Apurímac River.
Not an expedition. 21 Days – air travel not included.
Comments / Reviews
+ More