ABOUT THE SPOT
RELEVANT ACTIVITIES & OFFERS
Hot Air Ballooning in Maasai Mara National Reserve, South Rift Valley, Rift Valley Kenya
Distance:
15-25km/ 9-15mi
Maasai Mara covers about 1500 km²/580 mi² and consists of gently rolling hills, acacia and woodland trees, watered by the Mara and Talek rivers. Landscape at the Mara is stunningly free and abundantly rich in wildlife allowing for magnificent viewing from above while cruising on the hot-air balloon.
Hot-air ballooning at the Mara is THE ultimate experience as you go over the diverse habitats of the Maasai Mara, the Mara River, forests, swamps and the African Savannah!!! Wildlife treats include the "Big Five", the lion, leopard, rhino, elephant and the buffalo among other animals like the hippo, crocodiles just to mention but a few.
Normally the balloon flight starts very early in the morning between 6-6.30 am and would go a distance between 15 and 25 km (9-15 mi) depending on the wind conditions. If you happen to be at the Mara between the months July and October, then you get to experience the phenomenal "Great Migration" of over a million wildebeests together with a number of Zebras and gazelles!!!
Relevant activites based in
Kenya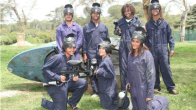 Paintball session, Nairobi
Tuesday to Saturday the charge  is 13$ for 100 balls per head. On Sundays we give a discount whereby the charge is 10$ for 150 balls per person, which is inclusive of the protective gears and all the equipment used in the game.
We also have lunchbox packages that go for 20$ and salad packages for 15$ inclusive of the game. Each game session goes for 1 hour and  30 minutes.
We are open  from 9.30 am to 4.30 pm.
+ More
Sundays 10$ for 150 balls per person