Flow Film Festival, Athens
Flow Film Festival Tour
Locations:
Athens, Thessaloniki, Volos
Sports:
Snowboard, Skate, Surf
If you are a board – any board – sports fan and you enjoy good sports related films and documentaries, this is an event you wouldn't want to miss! The Flow Film Festival, taking place for the fifth consecutive time in December 2015, is anticipated by every extreme sport fan in Greece.
This year's event is going even bigger with movie screenings and events travelling across the vertical axis of Greece, from the capital city of Athens, all the way up north to beautiful Thessaloniki, ending in scenic Volos.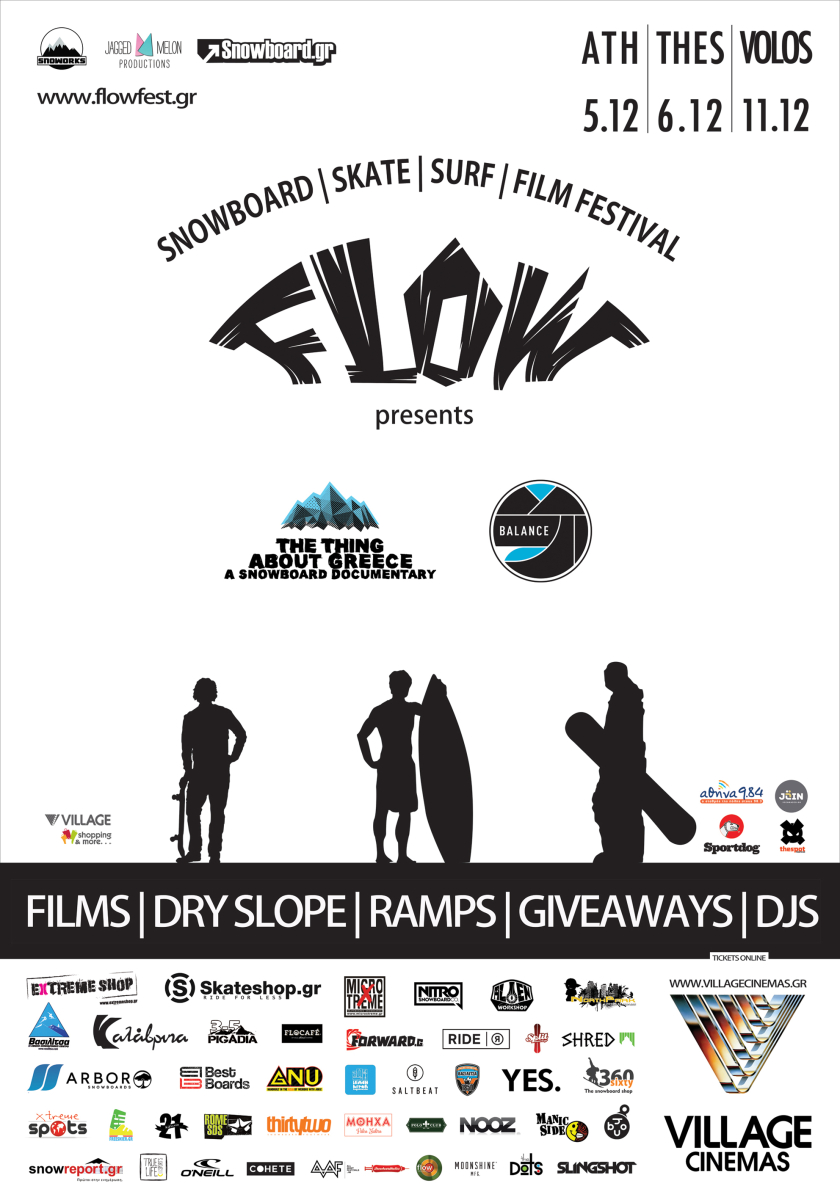 Village Cinemas in all 3 cities, will be hosting the Flow Film Festival 2015. This year, besides the screening of the excellent foreign film BALANCE by David Carrier-Porcheron a.k.a D.C.P, for the first time in its five-year history, the premiere of a much anticipated pioneering Greek production "The Thing About Greece – A Snowboard Documentary" by Themis Lamprides will also be screened!
But the "firsts" don't stop here for the pioneering organisers. Several side action events and happenings will also be held, many of which are happening for the first time in Greek rural centres.
What to expect:
Dryslope (an artificial slope for ski & snowboard)
Prize grab – Huge giveaways
Skateboarding – mini ramp
Music (everyone knows that Greeks know how to party!)
If you love snowboarding, surfing, skiing and skateboarding and you are looking for an unforgettable experience amongst other board sports aficionados in one of the world's most beautiful and hospitable countries, start planning your trip to Greece NOW!
Tickets available on line, here