---
INFORMATION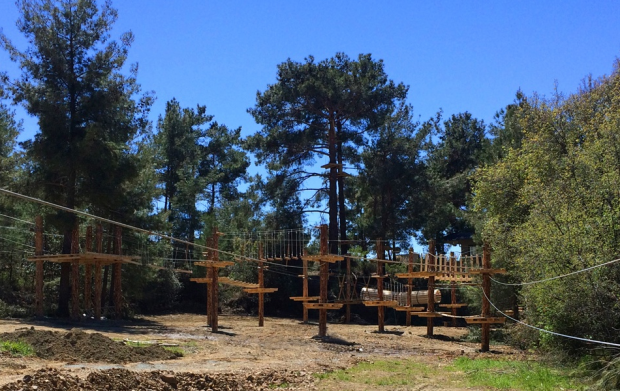 Welcome to the first rope adventure forest park in Cyprus! This unusual interesting sport attraction is ideal for all family vacationers and is located in the beautiful mountains of Pano Platres.
We are doing it for the sports lifestyle and health in Cyprus.
There are more than 80 games from France. 'Speed free fall jump' and 'Speed zipe-line' are imported from America. There are just no analogs in Europe yet.
Safety is a big issue for us. All courses and games are united by special cable and all the trees are carefully protected. All participants will be outfit in helmets and climbing harnesses, connected to a "click-it" system, making it simply impossible to completely disconnect from the safety cable. There is double magnetic protection.
Requirements: 1) Dress – sportive. 2) Health – normal condition (apart from heart disease, physical and mental disabilities). 3) Weight of the body – below 100 kg.
We are open EVERY DAY from 10.00 – to 18.00 and reservation is required. The new archery place is now open. There are a lot of new games on 2 Orange lines for smaller children from 3 years old. We have a cafe with a variety of hot and cold drinks, salads, fresh sandwiches and ice cream.
For GROUPS of 10 people – 10% discount (except Sunday and Public Holidays). Group visit should be reserved.
---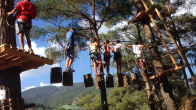 Ziplining / Archery Adventures, Platres
Prices for 3 hours
Age
Line, activity
Price
2-5 years
2 Orange
14 €
5-9 years
2 Orange + 2 Violet
18 €
Over 10 years
Yellow, Green, Blue, Zip Line (96m)
25 €
Over 14 years
+ Red (Free fall jump)
+4 €
Over 14 years
+ Black Speed Zip Line (115 meters)
+4 €
Over 14 years
All Lines inclusive
32 €
Extra 30 min of use +5 €
Private Instructor 20 €
Over 6 years Archery and Crossbow (for 2 people, free coach) 10 €
Gloves:
• Big size 2 €
• Small size 3 €
+ More