---
INFORMATION
Our operator was created in 2004 and has since established itself as one of the leading tourist attractions and activities in Cyprus, very popular with the local businesses and holidaymakers. Our operator is constantly developing and keeping the focus on pleasurable experiences and customer satisfaction.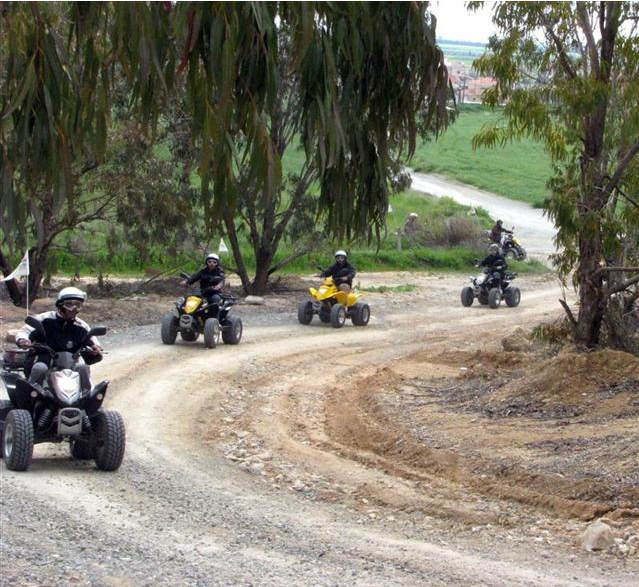 Our safari excursions are guided around Pyla village, Troulli village, Xylotymbou village and Oroklini village overlooking the beautiful and picturesque Larnaca Bay with breath taking panoramic views. Our instructors will firstly provide you with all the relevant safety equipment and then everybody will be shown how to operate the quad bikes followed by a short safety briefing and circuit practice.
Once the briefing is completed, you will be led off into the hills riding through the hidden and unspoiled beauty of Cyprus on a 2 hour tour giving ample time to explore the beautiful untamed countryside. We will be covering up to 40km of various terrains riding through traditional villages, mountain treks, pine scented forest trails, farms and countryside on a relaxing and awe-inspiring safari tour which can only be achieved with a self-driven quad bike and ensuring groups of all levels and ages an experience of their own adventure!
We use the E-Ton Viper 150cc ATV, which is an automatic ATV, powerful enough for the heaviest of riders and a very maneuverable machine, with many capabilities and very easy to handle. These quad bikes are ideal for beginners and extremely safe.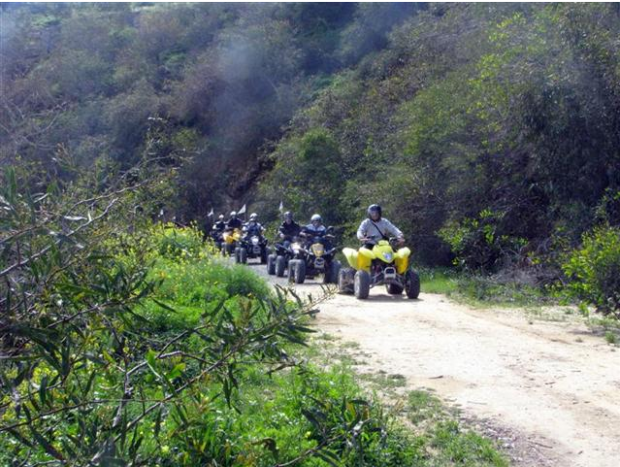 Whether you come on holiday as a family or a group of friends, we can cater for up to 15 riders for a wide variety of groups of all abilities and ages. Whole day or part day adventure safari's can also be arranged for team building events, company day-outs, stag or hen parties, birthday parties etc.
Our goal is not only to put the emphasis on tourists, but to expand and establish all types of parties, team building events and corporate activity days for companies which will offer a challenge or experience to the employer and employee. Every once in a while, having fun outside of the work place enables you to have a stress free day and feel like a valued member of your company.
---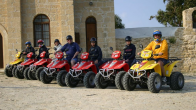 Quad Biking, Larnaca
Cyprus is a very popular destination and quad bike safaris are the best way to spice up your holidays by getting some excitement in a controlled and safe environment. This activity is suitable for all ages and is a great way to explore the interior of the beautiful island of Cyprus.
Our instructors will firstly show you how to operate and ride the bikes safely and then you will be provided with the relevant safety equipment. You will start on a flat tarmac surface so you can get the feel the handling of the ATV, and then you will progress on to the dirt tracks with turns and undulations. After about 20 minutes when our guides feel satisfied that everyone is confident and competent, you will be led off into the hills around Pyla, Oroklini and Troulli village covering up to 40km of various terrains for approximately 2 hours of awe-inspiring fun! Once at the top, the stunning views across Larnaca bay, Oroklini and Pyla will take your breath away. Our safari's are tailored to meet client's requirements/abilities to ensure groups of all levels and ages an experience of their own adventure.
For large group bookings 10 persons or more please contact us for a quote.
Meals can also be arranged for an additional cost of 12.00 per person. Available ONLY for 3 or 4 hours trips and minimum of 10 persons per group.
Safari times
Our safari's operate Monday-Saturday 2 times daily for approx 2 hours per trip.
Winter period : November-March
11:00 - 13:00
15:00 - 17:00
Summer period : April-October
11:00 - 13:00
16:00 - 18:00
+ More
ETON VIPER 150cc (2 hrs €52 / 3 hrs €72 / 4 hrs €90) - ETON VECTOR 300cc (2 hrs €65 - Passengers €17 / 3 hrs €82 - Passengers €20 / 4 hrs €110 - Passengers €30)
REQUEST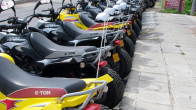 Rentals – Quads / Scooters / Bicycles, Larnaca
ETON VIPER 150cc*
1-3 Days €35 per day / 4-6 Days €33 per day / 7-10 Days €30 per day
ETON VECTOR 300cc*
1-3 Days €45 per day / 4-6 Days €43 per day / 7-10 Days €40 per day
BICYCLES**
1-3 Days €7 per day / 4-6 Days €6 per day / 7-10 Days €5 per day / 11-15 Days €4 per day
PGi MATADOR 125cc*
1-3 Days €30 per day / 4-6 Days €25 per day / 7-10 Days €20 per day
ADLY BUGGY 125cc*
1-3 Days €45 per day / 4-6 Days €40 per day / 7-10 Days €35 per day
*One day rental surcharge €10 per day
*All quad bikes, buggies and scooters require a €200 refundable deposit
**One day rental surcharge €3 per day
**All bicycles require a €50 refundable deposit
All current foreign vehicle driving licenses valid
Renter pays for fuel consumed during rental. No refund for unused fuel
Limited driving distance 20km radius of Larnaca town centre
Any traffic fines are clearly the renters responsibilty
Insurance cover is not valid in the occupied areas of Cyprus
All rates include local taxes and 19% VAT
24 hr breakdown service
24 hr notice needed for late returns otherwise a full day will be charged
+ More