---
INFORMATION
We are a supreme kite center and our team strives for the highest quality of services and best possible learning experience with a great team of highly experienced certified instructors, top notch equipment and safety procedures in one of the most cosmopolitan destinations of the world, Mykonos.
Korfos bay, just 2.5 km/1.5 mi from the picturesque Mykonos Town and a 5 min drive from the Mykonos international airport is simply a paradise for both Kitesurf and Windsurf lovers. The sandy beach and the constant wind flat shallow waters make this spot ideal for beginners and advanced riders.
Its north facing geographical position and the deep concave shape of Korfos beach, create a perfect corridor for the strong, stable and constant north summer wind "Meltemi". The wind blows between 20-35 knots/37-64 kph so bring small kites (7-9 m/22-29 ft). The water temperature is medium so a wet suit is more comfortable and sun protection is necessary if you're planning to ride for long.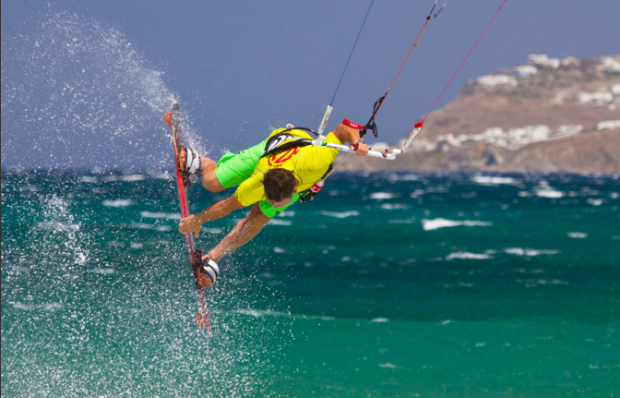 Courses are available in many languages, Greek, English, German, Italian, French, Dutch, Spanish and Portuguese and once the course is completed, students can attain an IKO certification with worldwide recognition. The services provided for all independent riders include gear rental, equipment sales and storage, rescue boat, beach assistance, kite repairs, shower and advanced lessons for tricks and surf riding.
Mykonos, the island of the winds with dreamy sandy beaches, windmills, traditional whitewashed buildings, small churches, superb harbors and landscapes and some of the most sophisticated nightlife can definitely satisfy the most demanding travellers.
---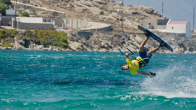 Kiteboarding Beginners Course, Mykonos
/
Aegean Islands, Greece, Mykonos
BASIC I, II & III
Designed to take you all the way through the basic training until water start and attain the IKO Certification upon completion.
9 hrs IN A GROUP OF 3 STUDENTS
6 hrs IN A GROUP OF 2 STUDENTS
+ More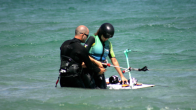 Kiteboarding Private Lessons, Mykonos
/
Aegean Islands, Greece, Mykonos
1 hr intensive one to one lessons for complete beginners and advanced riders tailored to your needs and skills for rapid progression.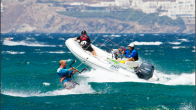 Kiteboarding Boat Lessons, Mykonos
/
Aegean Islands, Greece, Mykonos
1 hr intensive one to one boat-guided lesson for those who have mastered upwind body dragging and water start. These lessons are designed to rapidly improve your riding skills in both directions, transitions and upwind riding.
+ More