---
INFORMATION
We provide whitewater rafting and kayaking specialists that can't wait to take you through an adventure of a lifetime. Our company was established in early 2009 and we decided to pool together our international whitewater rafting, kayaking and canyoning experience. In this short time, we have become one of the leading and best white water rafting companies in Nepal. The ultimate aim of establishing was to bring a new element to travel in Nepal and break out of the mold of run of the mill "herd them in herd them out" tour operators. We want to provide you with a fun, safe, eco-friendly trip and experience. 'It's not just about getting there, it's the journey that takes you there'.
---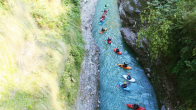 Trisuli River Rafting Day Trip, Nepal
CLASS: III / III+
DURATION: 1 day (2 days optional)
DEPARTS & RETURNS: Departs: Our office, Thamel, Kathmandu at 6.30am daily - Returns: Our office, Thamel, Kathmandu at 7pm (Pokhara on request).
FROM / TO: From: Chauraudi (3 hour drive from Kathmandu) To: Chumligtar (4 hour drive to Kathmandu or Pokhara)
VOLUME: Volume in November : 400cms (1400 cfs)
BEST SEASON: All year round!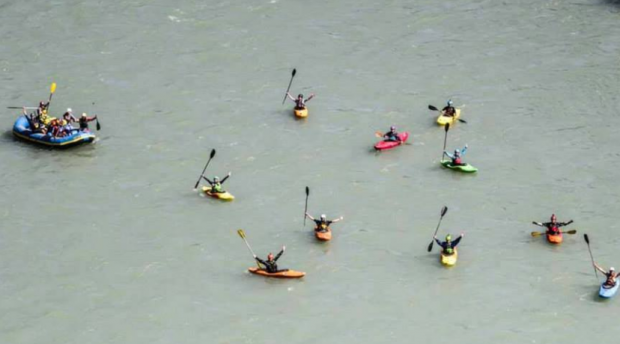 A great way to travel: Avoid spending 8 hours on the bus from Kathmandu to Pokhara or Chitwan when you can raft half of it!
-Great for year-round rafting and kayaking
-Combined with other activities such as canyoning and camping
-Paddle through impressive gorges all whilst keeping an eye on the beautiful local wildlife
Trisuli River Rafting is one of Nepal's most popular river trips, ideal for everyone, from the most experienced kayaker to the first time rafter. It is also our home as we have built our fixed riverside camp.
It's an ideal year round river (even during monsoon) just a stones throw away from Kathmandu providing a pool drop style of big volume river. This rafting trip will quench the white water desire of travelers with limited time in Nepal.
This trip leaves plenty of time to play rafting games, do some cliff jumps, swim, chill out and soak up the surreal atmosphere of Nepal's River life. It conveniently ends at our tented river side camp, Gurung Valley. Why not extend your trip and enjoy a night at our 1 million star hotel and soak up as much river life as you can! Get off the bus and on the river!
Join us for some monsoon rafting to see how fierce this river can really get!
Whitewater Rafting: No previous experience needed to join a rafting trip on the Trisuli. Great for the first timer and families.
Kayaking: A fantastic warm up river for those going on to the bigger rivers in Nepal. Plenty of small rapids and a few challenging ones. The river is ideal for first time kayakers wanting to learn a thing or two about whitewater.
+ More
Jalberi Canyon Day Trip, Nepal
 DURATION: 1 day
DEPARTS & RETURNS: Departs: 6.30am Thamel, Kathmandu. Arrangements can also be made from Pokhara or Chitwan on request. Returns: 1 hour drive to Chitwan, 3 hours to Pokhara or 4 to Kathmandu
WHERE: Jalberi Canyon
BEST SEASON: March-June or Middle of September- December. Not available during monsoon (July-Sept)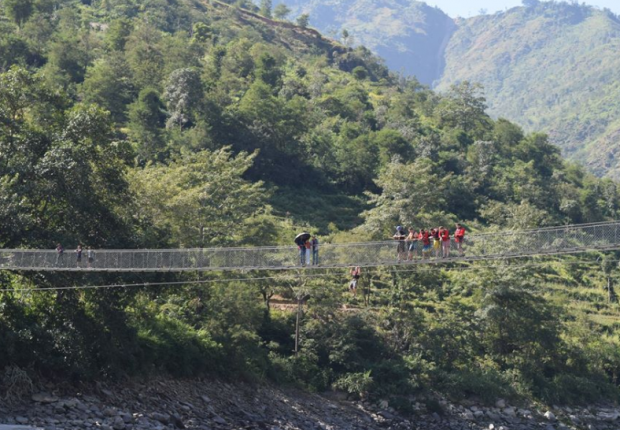 The best DAY TRIP in Nepal. Abseiling down awesome waterfalls!!! Jalberi Canyon is the best canyoning spot in Nepal and the canyoning site is in a small village called Jalberi, offering great day trips from Kathmandu, Chitwan or Pokhara or a great addition to your kayaking or rafting trip on the Trisuli. No previous experience needed to join as we can teach you everything you need to know and have all the right equipment and expertise to keep you safe and show you a great time. All you need is good attitude and sense of adventure!
Trip departs from Kathmandu at 6.30am almost all year round (arrangements can be made from Pokhara or Chitwan on request and we take a short break during the monsoon months when the water is too high).
Once we get there, we will change at a small house at the bottom of the hill. There will be time for a quick cup of tea before a 20 min hike to the top where you will be greeted with a 100m waterfall, one of the most beautiful places in Nepal. Whilst your guides get all the equipment ready, you'll have time for a photo opportunity under the epic waterfall or a quick dip in some of the natural pools. You will then be provided with a harness, life jacket and helmet and after a comprehensive safety briefing we'll start teaching you how to climb and abseil and we are ready to go...
The trip starts with a jump into the canyon, it will get your heart beating right from the very beginning!
The largest waterfall we run is around 26 m. Sometimes we slide and sometimes we jump directly into the clear pools. After around 3 1/2 hours of adrenaline fueled fun we'll stop for a picnic lunch in the canyon before we drive back to Kathmandu, Chitwan or Pokhara or if you prefer, come and spend a great night at our Trisuli River Camp, Gurung Valley. A trip definitely not to be missed!!!
+ More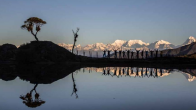 Kayaking 4-Day Beginner Course, Trisuli River
DURATION: 4 days
DEPARTS & RETURNS: Departs: Our office, Thamel, Kathmandu at 6.30am daily - Returns: Our office, Thamel, Kathmandu at 7pm (Pokhara on request).
FROM / TO: Gurung Valley, riverside resort. We run a variety of sections of the river
BEST SEASON: September until June (not July and August due to monsoon high water)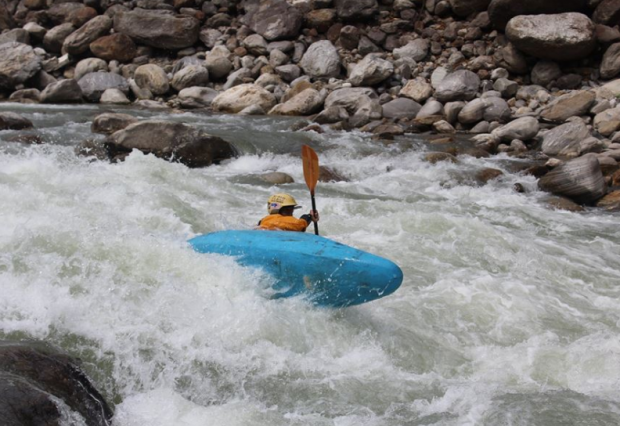 Itinerary: Depart Kathmandu at 6.30am and travel to 3 ½ hours to our camp. Once arriving, we will have a stop of lunch and get to know the staff. After you will be given your equipment and shown how to use it and after a briefing on land we hit the water. We will then spend the afternoon on a flat section of the river just outside the camp, which is more like a lake than a river - just perfect for beginners. We will spend time getting used to being in a kayak, how it feels and learning how to cross the river, building your confidence as we go.
Depending on how you improve, if there is time, we will paddle 7km down the river to Manakamana. Here you will encounter some gentle wave trains and Grade II rapids.
You'll spend the evening enjoying a campfire at the camp. Stories round the fire and traditional music are on the menu for tonight!
+ More