ABOUT THE SPOT
RELEVANT ACTIVITIES & OFFERS
Rafting in Upper Clutha Mata-Au River, Wanaka, Otago New Zealand
Wanaka is a small town in Central Otago in the South Island of New Zealand, situated on the south side of Lake Wanaka.
The town is surrounded by the awe-inspiring Southern Alps, with spectacular mountains such as the Crown Range, Haast Pass, Roys Peak and Pisa Range and is close to Mount Aspiring National Park (World Heritage Area). Despite the mountainous landscape, the climate is considered to be continental, with fairly warm summers and temperatures that can reach up to 25°C/77°F, and cold winters with frequent snowfalls.
Clutha Mata-Au is the longest river in South Island. It begins its journey close to Haast Pass, passes Lake Wanaka and flows southeast up to 210 mi/338 km until it merges with the Pacific Ocean. It is a fast flowing river, with a rather diverse course, and has many rapids, twists and turns. It is the ideal river for beginner to advanced rafters who wish to taste great amounts of adrenaline, but mainly prefer to enjoy the wild scenery.
Enjoy the thrilling feeling of fighting with the waters during the numerous rapids. Highlights of your adventure: the Devil's Nook whirlpool and Hassing's Hole and Smokin' Joe's Rapids. Don't forget to bring your bathing suit and a towel with you!
Relevant activites based in
New Zealand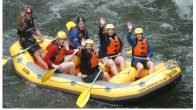 Rafting & Outdoor activities, North Island
/
Kaituna River, New Zealand, North Island
Winter/Spring 2017-2020
Oceania/South America/Europe
January – NEW ZEALAND
River Rafting Tour Class III / IV / V & outdoor experiences on Kaituna River.
Not an expedition. 21 Days – air travel not included.
+ More