---
INFORMATION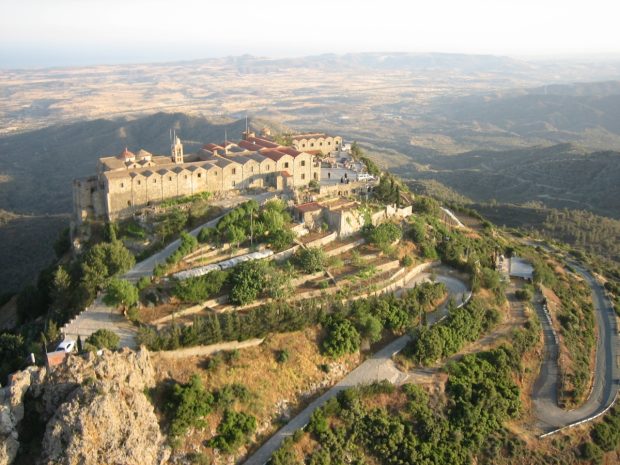 Welcome to the Sky!!! Paragliding is the ultimate and unique free-flying sport. Just using nature's powers like wind and sun, you can soar on a slope for hours or gain altitude and travel long distances. Para Fly is a paragliding school in Cyprus that intends to guide participants safely from ground to the open sky, feeling the freedom of flight the way that only birds can do. In our school we strictly follow the APPI educational system, an international and professional system, at the highest level.
---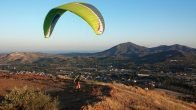 Paragliding Open Sky & Adventure Pilot, Stavrovouni
Open Sky Pilot is smply the first degree in the APPI Education System. The students learn how to install and control the wing on the ground (Ground Handling) and have the first solo flight experience. Adventure Pilot is a student capable of flying from the take-off point to the landing zone in stable weather conditions and in altitude gliding. At these levels, students are allowed to fly ONLY with radio communication and under the Instructor's supervision.
To participate and complete the Open Sky Pilot course, an individual must:
Be a minimum age of 18 years old.
Enroll in a minimum 5 days course. This includes a minimum 3 days of ground handling.
Complete the theoretical course on basic paragliding knowledge (Flying Technique, Aerodynamic, Meteorology, Legislation, Equipment).
Complete the practical, analyze, technique and mental preparation.
To participate and complete the Adventure Pilot course, an individual must:
Be certified as an Open Sky Pilot or alternatively have a qualifying certification from another training organization.
Minimum age of 18 years old.
Minimum 10 days course
Complete the theoretical and also practical: analyze, technique and mental preparation.
Have minimum of 10 flights done, with instructor on radio.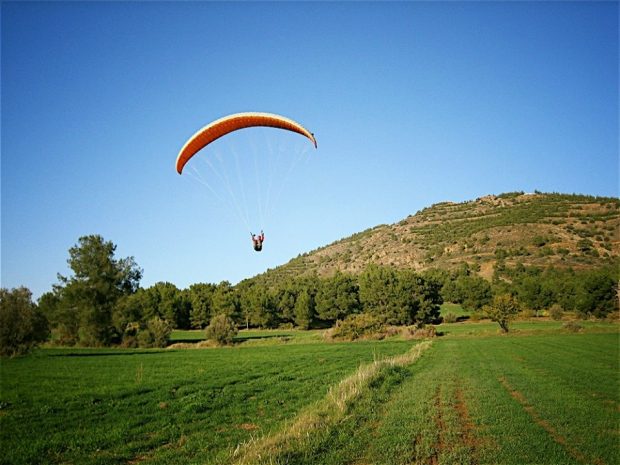 BEGINNER TASK
Intro Equipment, Vocabulary, Maintenance
Daily inspection, material checking and packing
Weather analysis, Site inspection, Airflow
Take-off 5 point control
Take off in 4 phases
Slalom: pitch, direction and roll axis in contact with glider
Harness simulator, getting in and out of harness and turns
In-flight check, hands through brake handles
Small flights
Follow flight plan, 3D markers, and correction of trajectory
Flight with changes in direction: 90/ 180/ 270/ 360
Explore speed range, max speed, best glide ratio, min sink
Create pitch let stabilize and create roll let stabilize
Loss of height stable in good speed range
Final approach: stable, speed, legs down, looking ahead
Landing into wind, flare and final braking
INTERMEDIATE TASK
Make clear the 3 parts of flights: Take-off, Flight and Landing
Daily weather analysis and evolution
Take-off 5 point control and pre-flight checks
Take off in 4 phases: Inflation, Control, Decision, Acceleration and Looking ahead with good trajectory
Stopping the take-off on safety line
After take-off in flight check and Getting into harness
Hands through brake handles
Respecting flying direction after take-off
Big Ear and change of trajectory
Roll and control, roll with big ears
Pitch control
Speed bar
Speed control
Figure 8, Down wind and Up wind position
Landing technique PTU/ S/ 8
Landing in decided area
Maneuvering with D line in case of brake line failure
+ More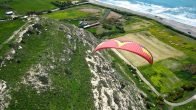 Tandem Paragliding, Stavrovouni
If your time for Paragliding Training is limited, but you still want to taste the feeling of a free-flight, you can join us as a passenger in a Tandem Flight with our experienced Instructor as a pilot. You will live an amazing and unforgettable experience! You will sit back, relax and just enjoy your flight. The flight is completely safe and you are going to take off without realizing it.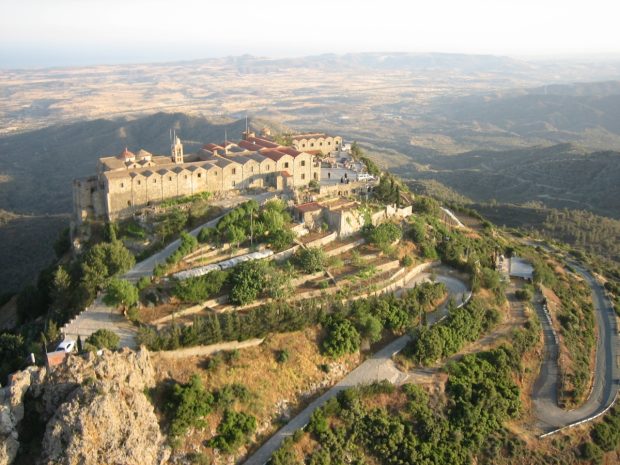 + More