OVERVIEW
HOW TO GO
WHERE TO STAY
HAVE FUN
SCHOOLS & SHOPS
GALLERY
Paintball in Parklands, Nairobi, Nairobi Kenya
Set up:
Oil drums, Sand pits and scrap vehicle
Parklands is a suburb of Nairobi City center. It is approximately at 5 km/3.1 mi from the city center and numbered into avenues. The name was given by due to its proximity of the tropical forest of Nairobi's City Park.
Parklands also offers you a chance to show off your marine crawling skills, by evading crossfire and going for your enemy's territory with an exciting paintball experience.
Though it is open to novices and experts, one needs to be above 18 years of age to participate. The spot's set up includes oil drums, sand pits, scrap vehicles and structures placed in a way that it is easy to duck or jump on them. And… no cheating during the warfare!! The game can last from seconds to hours and in some cases even days!!!
How to Get to Destination
BY CAR
FROM Nairobi City Centre
5.8km(3.6miles) 13minutes
Head northeast on Haile Selassie Rd and take the 3rd exit onto Moi Avenue. Turn left onto Kenyatta Avenue and then take the 2nd right onto Muindi Mbingu street. On the next roundabout take the 2nd exit onto Muranga Rd and continue to Forest Rd and take a slight left onto Parklands Rd and continue onto Parklands.
BY AIR
Jomo Kenyatta International Airport Nairobi,
22.1km(13.8miles).
Where to Stay
Parklands and surroundings offer a wide range of accommodation options.
Where to Have Fun
Nairobi has a a wide variety of options to entertain everyone.
Schools & Shops
No schools are available on the spot
Audiovisual material
VIDEOS (1)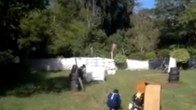 0:37